Simplify Appointment Management with User-Friendly Interface
Unlock the power of effortless appointment management! With an intuitive and user-friendly interface, streamlining the scheduling process for salon staff. With minimal training required, you can seamlessly navigate and manage appointments with ease.
Streamlined scheduling process for salon staff, saving time and improving efficiency.

Intuitive and user-friendly interface, minimizing the need for extensive training.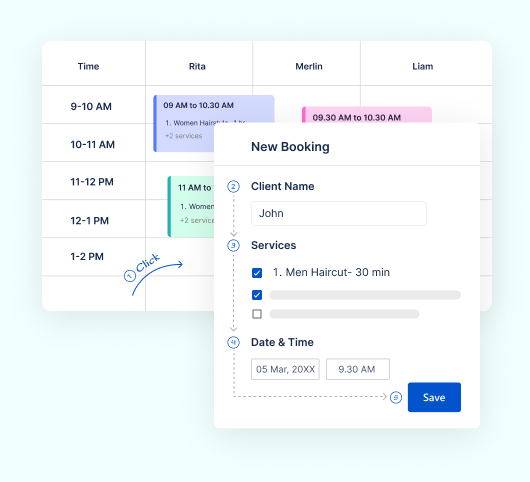 Streamline Regular Bookings with Recurring Appointments
With our advanced feature of recurring appointments, staff can effortlessly schedule the repeating services in advance. Enjoy the freedom to focus on what matters most, while our appointment module takes care of ensuring your clients' recurring appointments are seamlessly booked, saving time and effort for both salon staff and clients.
Effortlessly schedule repeating services in advance, saving time and effort for salon staff.

Seamlessly book recurring appointments, ensuring a streamlined and efficient booking process.

Enhanced convenience for clients with recurring needs, leading to improved customer satisfaction.
Reduce No-Shows and Enhance Communication with Automated Notifications
Never miss an appointment again! With our advanced appointment module, clients receive automated notifications and reminders, ensuring seamless communication and significantly reducing the number of missed appointments. Stay organized, keep your schedule on track, and provide an exceptional client experience with our appointment management feature.
Reduce no-shows with automated notifications, ensuring clients are reminded of their appointments.

Regular notifications and reminders create a personalized and attentive experience, increasing client engagement and loyalty.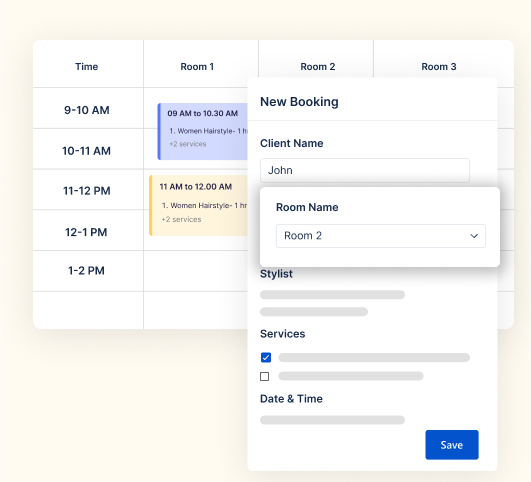 Optimize Resource Allocation with Efficient Resource Booking
Take control of your resources and ensure optimal utilization with our resource booking feature. Now, salon staff can easily allocate and assign specific rooms, equipment, or staff members for each appointment, ensuring a seamless and organized workflow. Say goodbye to scheduling conflicts and enjoy a smooth-running salon environment.
Optimize resource allocation for efficient operations and enhanced productivity.

Easily assign specific rooms, equipment, or staff members to appointments, ensuring seamless workflow.

Eliminate scheduling conflicts and create a smooth-running salon environment.
Personalize Customer Experiences with Detailed Booking Notes
Experience seamless client management by capturing comprehensive booking notes. Empower salon staff to effortlessly record specific preferences, requirements, and special instructions for every client, ensuring personalized and exceptional service.
Enhance customer satisfaction with personalized and tailored experiences based on detailed booking notes.

Easily access specific preferences, requirements, and instructions for each client, ensuring exceptional service.

Improve customer relationships by demonstrating attentiveness and attention to detail in every appointment.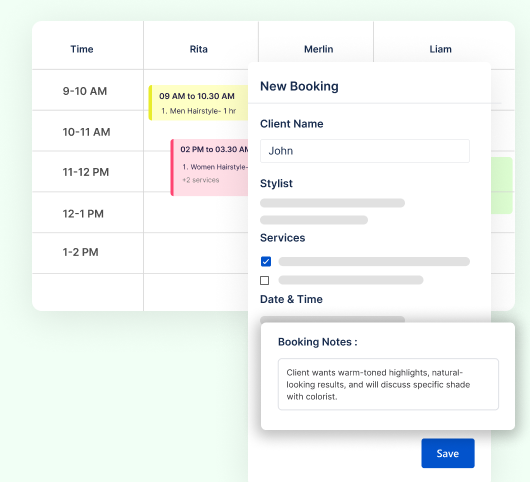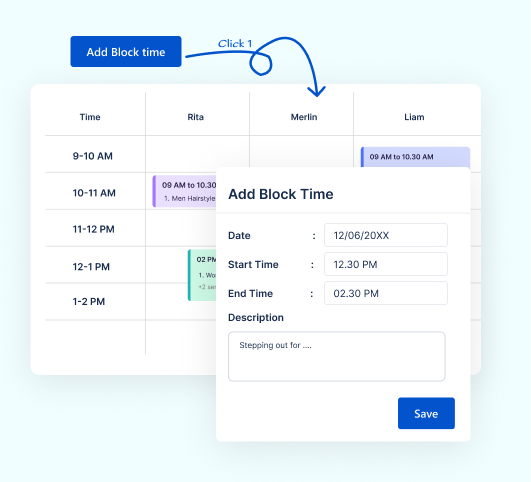 Optimize Scheduling with Breaks and Blocked Time Slots
Enjoy the flexibility to effortlessly block time slots for breaks, staff meetings, or any non-client activities, guaranteeing seamless scheduling and enhanced productivity. Take control of your salon operations like never before.
Efficiently manage staff schedules by blocking time slots for breaks and non-client activities.

Enhance productivity by ensuring dedicated time for staff meetings and other important tasks.

Maintain a healthy work environment by allowing staff to take necessary breaks.
Streamline Pre and Post-Service Activities with Dedicated Time Blocks
Seamlessly integrate pre and post-service block time to empower salon staff in efficiently preparing before appointments and completing essential tasks after each service. Experience a streamlined workflow that ensures exceptional client experiences and maximizes staff productivity.
Dedicated pre and post-service time blocks ensure a smooth and efficient flow of appointments, allowing staff to adequately prepare and complete post-service activities.

Use pre-service time to set up and prepare, while post-service time enables them to finalize documentation or clean up, ensuring a positive experience for clients.

With dedicated time blocks, provide thorough and attentive services, focusing on client satisfaction and delivering exceptional results.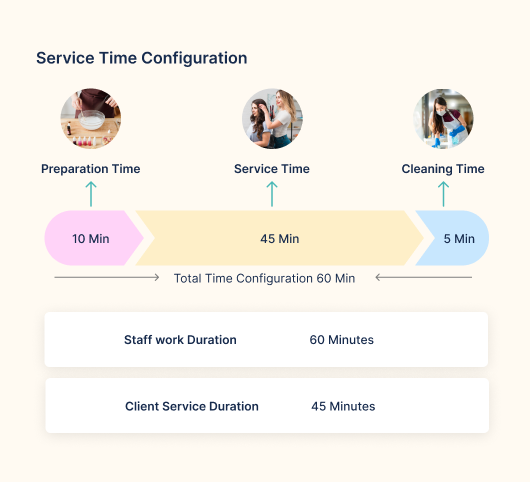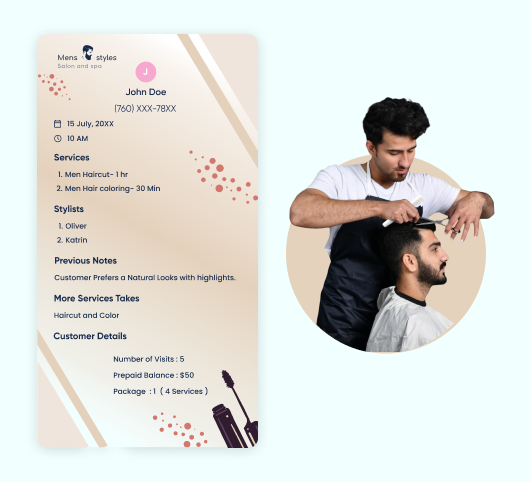 Streamline Service Execution with Comprehensive Job Cards
Unlock precision and efficiency in service execution with our advanced appointment module. Discover the power of job cards that deliver comprehensive information about each service, equipping salon staff to flawlessly and efficiently carry out every task.
With a job card, perform the right treatments and procedures.

Execute services without delays or confusion, optimizing time management.

Optimize service quality and precision with job cards that ensure flawless execution.
Eliminate Overlapping Appointments with Double Booking Control
Experience seamless appointment management and eliminate scheduling conflicts with our state-of-the-art appointment module. Benefit from our advanced double booking control feature, which ensures that salon staff never face conflicting appointments.
Avoid scheduling conflicts and overlapping appointments with advanced double booking control.

Enhance client satisfaction with seamless appointment management and accurate scheduling.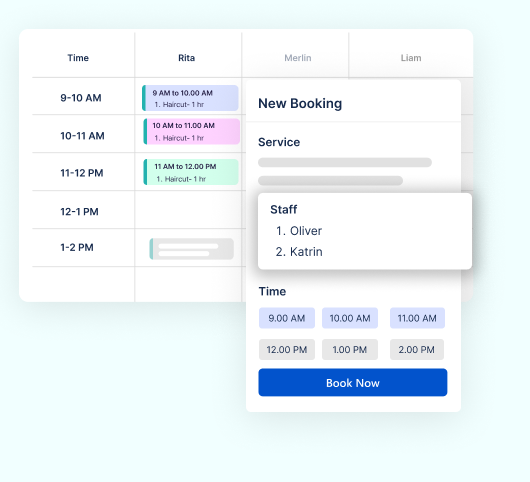 Stay Organized with Seamless Appointment Sync to Google Calendar
By seamlessly syncing appointments to your client's Google Calendar, you unlock the power of Google reminders. Let Google take care of reminders and schedule management, ensuring your clients never miss an appointment. Harness the potential of Google reminders to elevate client satisfaction, streamline scheduling, and empower them to stay effortlessly organized.
Keep clients organized and never miss an appointment with seamless sync to Google Calendar.

Leverage Google reminders for improved client satisfaction and efficient schedule management.

Integration with Google Calendar allows for better coordination with personal schedules, avoiding conflicts and ensuring a smooth workflow.