Marketing is the way to attract new clients and retain the existing ones. MioSalon's powerful and easy-to-use marketing suite has everything your salon and spa needs to flourish. It takes your marketing game up-a-notch and helps your business grow without the need for any costly marketing agency. Create targeted promotions, run holiday offers, and more with MioSalon's clean and simple tool. It puts your beauty business in places where customers are looking.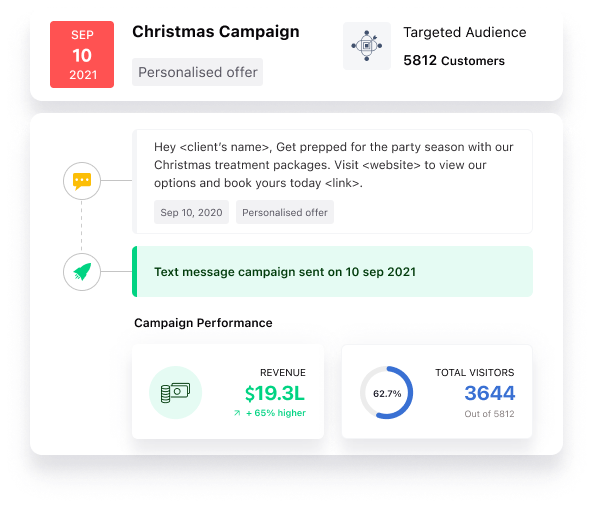 Personalised campaigns

Our beauty salon software helps you reach the right customers with personalized campaigns. Use MioSalon to filter clients based on service, gender, age, visit and value. This criteria will help you create personalized campaigns for every client. By refining your target list, you can attract customers you haven't seen in a while, and create a personalized marketing campaign that will drive real results. Make sure you target your active, inactive and top-spending clients. MioSalon's targeted marketing feature takes out the hassle of customer segmentation and does it through its automated smart software.

SMS & Email campaigns

Use our SMS and email marketing tool to boost client engagement. You can target active and inactive clients by creating targeted messages. You may membership plans, and wishes on special occasions with MioSalon's SMS and email builder. Personalize your message with a link to your appointment booking software or simply choose from the ready templates available. We have tried-and-tested templates for all occasions. It can help you promote your business and get your clients back in to spend more.

Email Campaign

Greetings

When a client's birthday or anniversary is round the corner, the software automatically alerts you. Engage with them a week before their special occasion and send them special discounts to entice them to visit your salon or spa. You can also customise the wishes by age and gender, and returning and non-returning customers or create exciting offers by using the filter option. It's a client-retention tactic you shouldn't be missing.