Personalized Offer Campaigns
Deliver customized offers to individual clients or selected client lists for a personalized marketing approach.
Increase client engagement and loyalty by tailoring offers to match their specific preferences and needs.

Maximize conversion rates by targeting clients based on relevant filters like status, services taken, and visit history.

Drive repeat business and encourage client retention through personalized discounts and promotions.

Personalize offers to boost client engagement and loyalty.

Target clients with relevant filters for maximum conversion rates.

Drive repeat business with personalized discounts and promotions.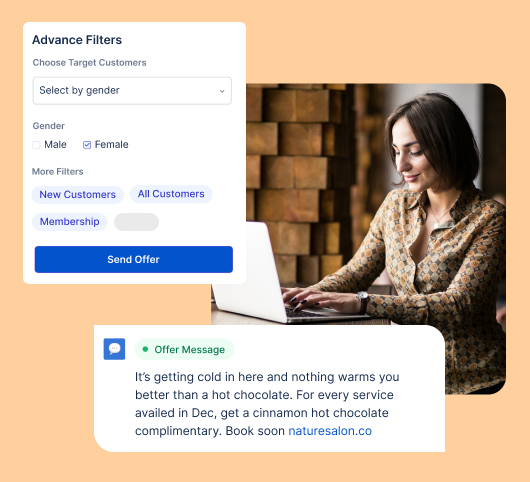 Targeted Promotions with Advanced Filtering
Run promotions with precise targeting options based on client status, services taken, last visited date, and visit count.
Optimize marketing efforts by reaching the right audience with promotions that resonate with their interests.

Improve campaign effectiveness by targeting specific client segments and delivering relevant offers.

Enhance client response rates by tailoring promotions to their individual needs and preferences.
Integrated SMS Gateway and Email Account
Seamlessly integrate your own SMS gateway and email account for efficient and reliable delivery of marketing messages.
Ensure timely and effective communication with clients through reliable SMS and email channels.

Maintain a professional brand image with consistent messaging across multiple communication channels.

Streamline marketing operations by managing all communications within a single platform.

Target the right audience with resonating promotions for optimized marketing.

Boost campaign effectiveness with targeted offers for specific client segments.

Increase response rates by tailoring promotions to individual preferences.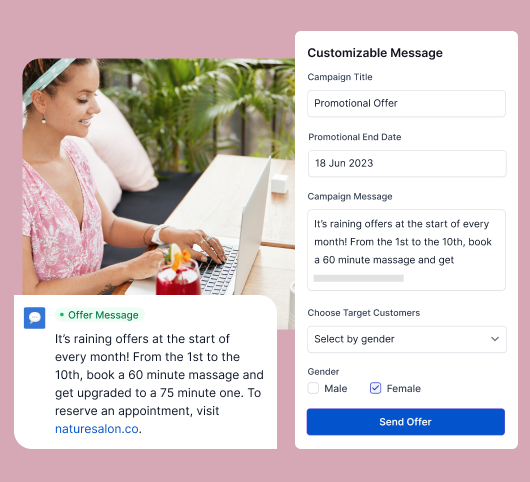 Customizable Message Templates
Create personalized message templates to align with your offer and promotion concepts, saving time and effort.
Maintain a consistent brand voice and messaging style throughout your marketing campaigns.

Easily create and customize message templates to match your specific marketing objectives and target audience.

Improve efficiency by quickly applying pre-designed templates to your marketing communications, reducing manual effort and ensuring consistent messaging.

Ensure consistent branding and messaging across marketing campaigns.

Customize message templates to match marketing objectives and target audience.

Increase efficiency with pre-designed templates for consistent and streamlined messaging.
Automated Discount Coupons
Automatically generate and send discount coupons to incentivize client visits based on various triggers.
Encourage first-time clients to become repeat customers by offering exclusive discounts on their next visit.

Increase average spend value by providing discounts for clients who meet specific spending thresholds.

Drive immediate action and bookings by automatically delivering discount coupons to motivate clients to schedule their next appointment.

Convert first-time clients into loyal customers with exclusive discounts.

Boost average spend by incentivizing clients who meet spending thresholds.

Prompt immediate bookings with automated discount coupons for next appointments.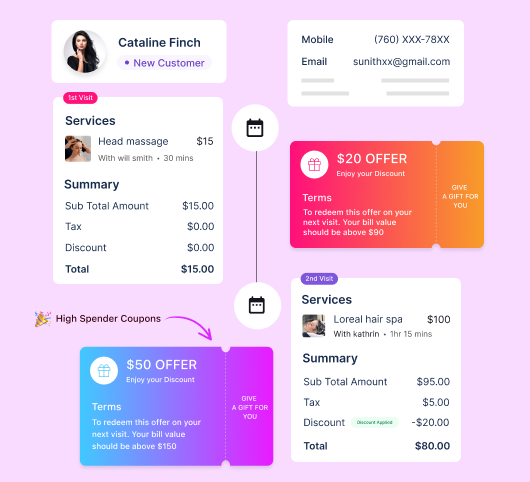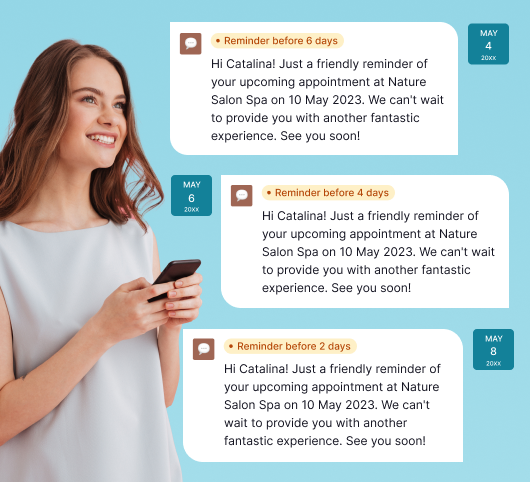 Recurring Visit Reminders
Send automated reminders for clients to schedule their next visit after a specified time or gap.
Improve client retention by reminding them to book their next appointment at regular intervals.

Reduce no-shows and missed appointments by proactively reminding clients of their upcoming visits.

Enhance the overall client experience by keeping them engaged and ensuring they receive timely reminders for their next service.

Retain clients by reminding them to schedule their next appointment.

Minimize no-shows with proactive reminders of upcoming visits.

Enhance client experience with timely and engaging appointment reminders.
Advanced Birthday and Anniversary Wishes
Send personalized birthday and anniversary wishes in advance, along with exclusive offers and promotions.
Build strong client relationships by showing genuine care and attention on their special occasions.

Increase client loyalty and brand affinity by surprising them with personalized messages and exclusive discounts.

Drive repeat business and generate referrals by creating memorable experiences that leave a lasting impression.

Strengthen client bonds with personalized gestures on special occasions.

Foster loyalty and affinity with exclusive offers and personalized messages.

Boost repeat business and referrals through memorable client experiences.