Send a Gift Voucher to the Recipient Directly
Enhance customer satisfaction and convenience by sending gift vouchers directly to recipients. Our Checkout/Billing module allows you to effortlessly generate and send digital gift vouchers, providing a personalized and convenient gifting option.
Offer a seamless gifting experience by sending gift vouchers directly to recipients' email addresses or mobile devices.

Increase customer loyalty and attract new clients by providing a convenient way to share the salon experience with their loved ones.

Boost revenue by promoting gift vouchers as a popular gifting option during holidays, special occasions, or promotions.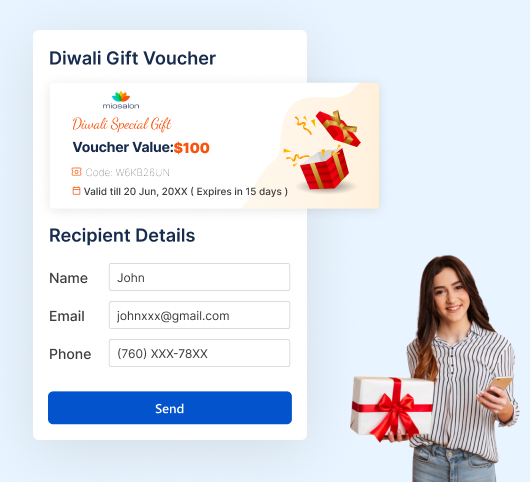 Get Payment through Multiple Payment Methods
Provide flexible payment options to your clients by accepting payments through multiple methods. Our Checkout/Billing module enables smooth transactions and enhances customer convenience.
Expand your customer base by accommodating various payment preferences, including credit/debit cards, mobile wallets, and online payment platforms.

Enhance customer satisfaction by offering a hassle-free payment experience that aligns with their preferred payment method.

Improve cash flow and reduce transactional barriers by accepting a wide range of payment options.
Collect Advance Payments
Ensure a secure and seamless payment process by collecting advance payments for services. With our Checkout/Billing module, you can easily request and manage advance payments from clients.
Minimize the risk of no-shows by collecting advance payments, encouraging clients to honor their appointments.

Improve cash flow by receiving payments in advance, providing better financial stability for your salon.

Enhance customer commitment and satisfaction by instilling a sense of responsibility through advance payments.
Track Due Payments
Keep track of outstanding balances and streamline the collection process with our due payment tracking feature. The Checkout/Billing module allows you to efficiently monitor and manage pending payments.
Simplify your accounting processes by easily tracking and organizing due payments within the system.

Reduce revenue leakage and improve cash flow by promptly following up on pending payments.

Enhance client communication and maintain a transparent billing process by providing accurate and up-to-date payment records.
Collect Tips
Provide a convenient way for clients to show appreciation for exceptional service by collecting tips through our Checkout/Billing module. Empower your staff and encourage client satisfaction.
Reward and motivate your staff for delivering exceptional service by facilitating tip collection.

Enhance the client experience by offering a convenient and discreet method for leaving tips.

Boost staff morale and retention by acknowledging their hard work and dedication through tip collection.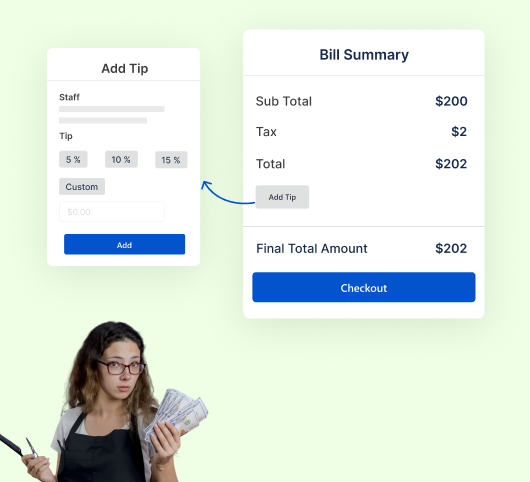 Digital Invoice
Streamline your billing process and reduce paper waste by generating digital invoices through our Checkout/Billing module. Enjoy a more efficient and eco-friendly approach to invoicing.
Reduce administrative costs and save time by automating the invoice generation process.

Enhance professionalism and brand image by providing clients with digital invoices that are easy to access and store.

Contribute to environmental sustainability by minimizing paper usage and promoting a paperless billing system.
Instant Notifications
Stay informed and maintain efficient communication with clients through instant notifications. Our Checkout/Billing module ensures timely updates and facilitates prompt action.
Enable proactive communication by sending instant notifications for payment-related updates, such as payment received, payment due, or payment confirmation.

Improve customer service and minimize confusion by keeping clients informed about their payment status in real-time.

Streamline internal processes by receiving instant notifications for payment updates, allowing prompt action and accurate record-keeping.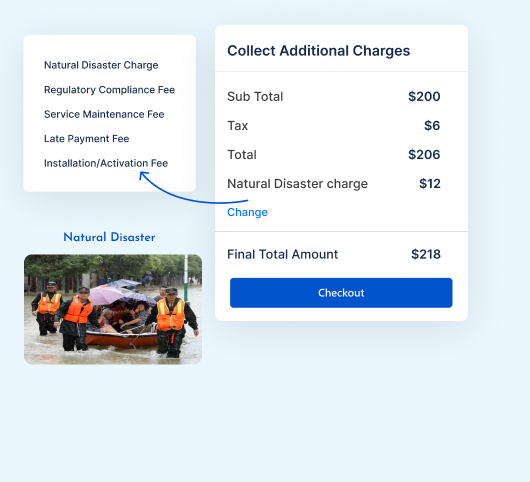 Collect Additional Custom Charges
Description: Capture and process additional charges beyond the standard service fees with our flexible custom charges feature. Easily add and manage extra fees or special requests during the checkout process.
Increase revenue by accommodating additional services or add-ons requested by clients, allowing for upselling opportunities.

Customize the billing process to meet specific client needs, such as charging for product purchases or applying surcharges for specific circumstances.

Improve transparency and accuracy by including all relevant charges on a single invoice, providing clients with a clear breakdown of their expenses.