Schedule Appointment
Simplify your day with our web-based hair salon scheduling software. The clean and simple tool allows customers to book appointments via the website, their smartphone, or the integrated Google ??Facebook and Instagram social media handles. MioSalon optimises your schedule and ensures appointments are booked back to back with no unnecessary gaps and reduced no-shows. Further, the software allows your team to view their calendar from one central location.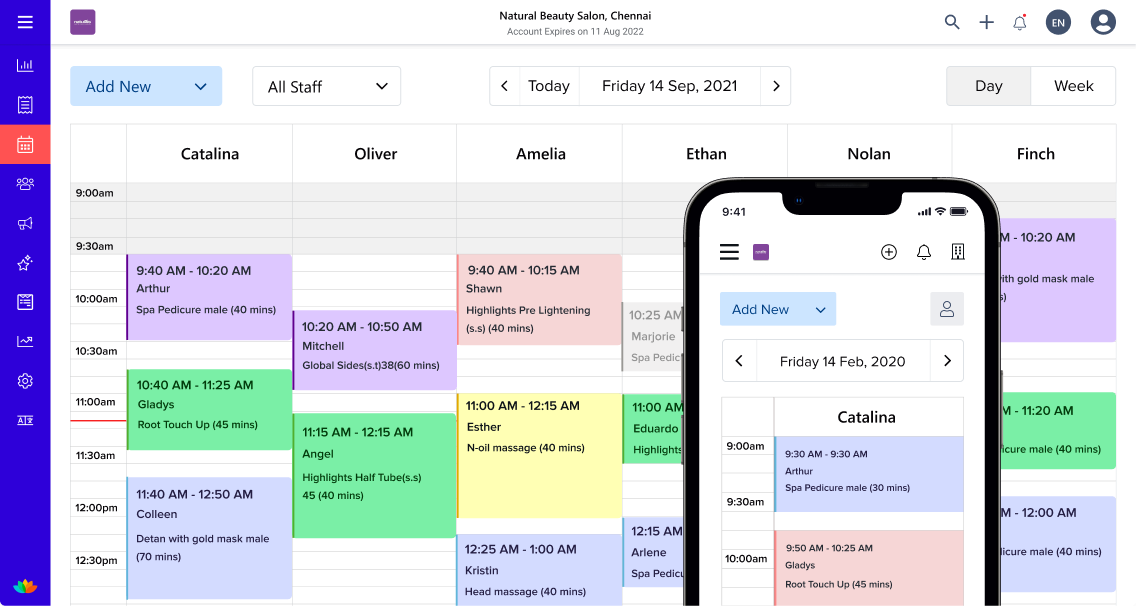 24/7 booking:

Allow customers to book online appointments through your website, Facebook page or mobile application. This premium feature has your reception open 24/7.

Reminders:

Send automated text messages and email reminders to your clients.

Real-time business management:

The online booking system updates in real-time allowing your employees to view their upcoming schedule when they log-in.

Calendar:

The powerful calendar incorporates color coded scheduling making it easier for your staff to glance through various appointments.

Avoid overbooking:

Make overbooking is a thing of the past. The system seamlessly avoids any chance of overbooking giving your staff the chance to stay on time always.

Make it attractive:

Customized color, fonts and buttons to match your brand.
Point of Sale
MioSalon has an integrated/built-in point-of-sale (POS) system that enables faster checkout for your salon and spa clients. You can now spend less time at checkout and more time with your clients. Check guests in, handle sales transactions, invoicing, receipts, retail product management and chair upgrades, all at the click of a button.
Invoice & Checkout

Unchain yourself from your front desk and process payments from your desktop or mobile device. Faster checkouts redefine how payments work thereby offering a number-convenient experience for your customers.

Gift card sales

Promote your business with customised or pre-designed gift cards. The integrated gift card sales tool can improve your bottom line.

Mixed mode payment

Complete transparency and predictability that enables easier accounting. Collect payments through various payment modes - cash, credit card, gift voucher, to make it simple for your customers.

Invoice notification

Go paperless! Send your automated invoices directly to your client's inbox or via text messages

Boost your sales

Create customised packages and vouchers for your potential clients and boost sales.

Retail management

The hassle-free retail system that tracks sales, inventory and orders. Get notified instantly when a product is running out of stock.

Advance Payment

While customers can schedule their appointment online with MioSalon, they can even pay in advance for the services they require. Whether a customer is taking a package or availing a single service, they can choose to make the payment partly or fully.

Centralized Prepaid

This means, a guest/customer can purchase prepaid cards at any branch of the outlet and subsequently redeem it at any of the branches. This upgrade will work for chain outlets as well as franchisees.

For example, if a customer purchases a prepaid card from 'branch A' of a reputed salon chain, it can be redeemed at 'branch B' as well. The same applies for franchisees as well.
Online Booking
Promote your business efficiently and effectively with MioSalon. Integrate your salon and spa software to your website and social media pages to enable your clients to book, cancel or reschedule their appointment bookings anytime from anywhere.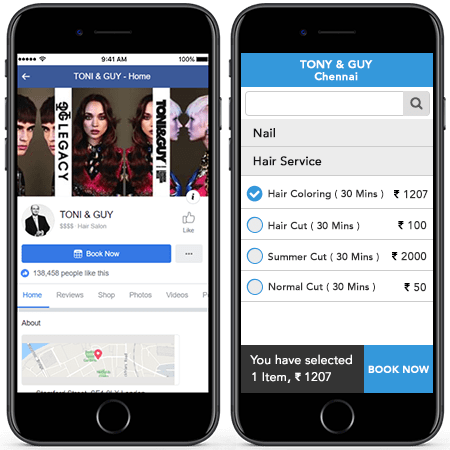 Add online booking to your website

The online booking widget for your website makes it easy and convenient for your guests to schedule appointments.

Facebook widget

Attract new clients by adding an online booking widget on your Facebook page. Clients are likely to take inspiration from your posts and book straightaway.

Integrated online payments

An integrated online payment gateway for bookings made on the website or through Facebook and Google.
Marketing
Create targeted promotions and engage with new clients at the right time with the right offers. With simple and effective marketing strategies, put your salon business where customers are looking.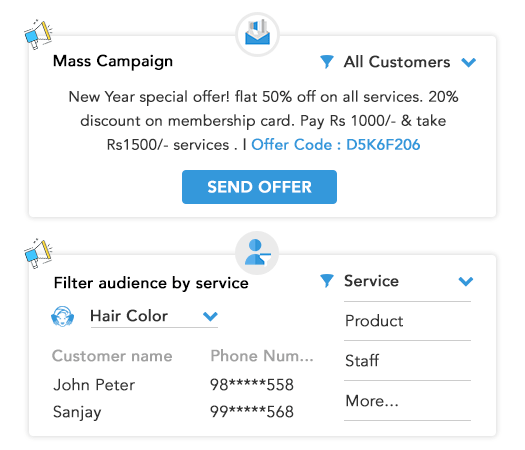 Personalised campaigns

Use booking preference and appointment history to filter clients based on service, age, gender, visit and value.

SMS & Email campaigns

Boost client engagement with SMS and email campaigns. Create targeted messages for your active and inactive clients.

Greetings

Never miss a chance to wish your clients on their birthday. Send out greetings with special offers and coupons.

Reminders

Send out reminders to clients who have not visited in a while and to those who are due for their next appointment.

Mass email marketing

Create captivating emails to stay in touch with clients. Intimate them about new products and services they would be interested in.

Bulk SMS and email management

An in-built feature to send out bulk text messages and emails to your existing customers to announce new schemes, new launches and special offers.
Analytics & Reports
Check how your business is tracking overall with individual reports and detailed insights on revenue, tax, campaigns and staff and sales performance. Maintain your entire business and client history in the cloud.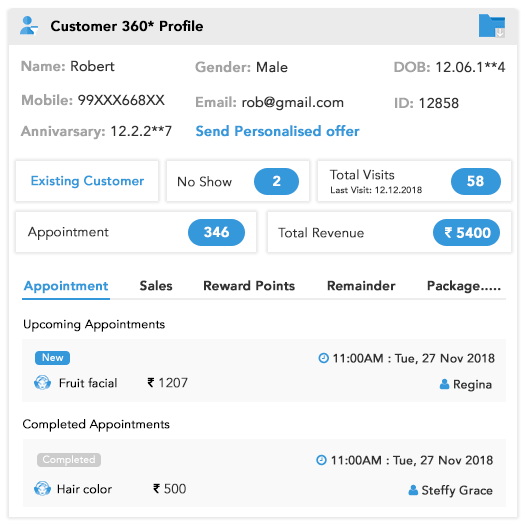 Dashboard

Get an instant overview of how your business is doing at the click of a button. Also, keep track of client retention, referrals, staff productivity and sales benchmarks.

Staff performance analysis

Keep the wheels of your business running smoothly by generating staff performance reports, total hours booked, product sales and client retention rate for each team member.

Customer 360 degree

Enhance client relationships by getting valuable insights into customer activity. Pull reports on rebooking, no-shows, cancelled appointments and customer retention.

Customer segmentation

Segment clients on different parameters to get insights on active and inactive clients.
Feedback System
The online reputation manager on MioSalon gives you complete control on how people treat, react and rate your business online. Get the real-time opinion of your clients before they rant on social media.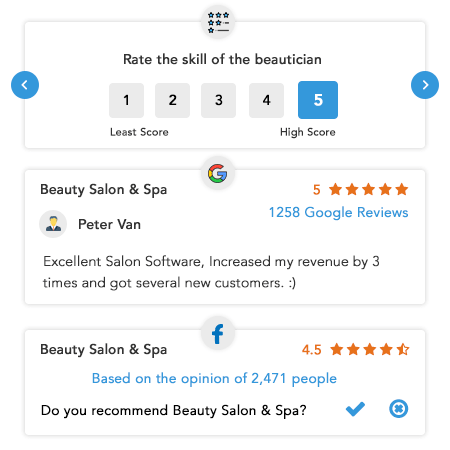 Control negative feedback

Monitor and control what's being said about your business on Google, Facebook, TripAdvisor and Yelp.

Enhanced reputation

Gain more 5-star ratings through automated settings. Gets your salon to stand out from your competition online and improves your salon's website ranking on Google.

Feedback alerts

Get notifications and alerts each time a negative rating is given.

Feedback response

Respond to negative and positive comments online from one clean and clear dashboard.

Rating by SMS

Send out text messages to clients after the service to collect dynamic ratings by SMS.

Feedback at store

Get clients to review your salon during checkout using salon software on your tablet.

Feedback questionnaires

Setup feedback questions on staff performance, appointment timeliness, quality of services and more.
Repeat Clients
Add to your salon bottom line and guarantee future income by creating membership packages and rewarding loyal clients. This will ensure you get more business opportunities from them.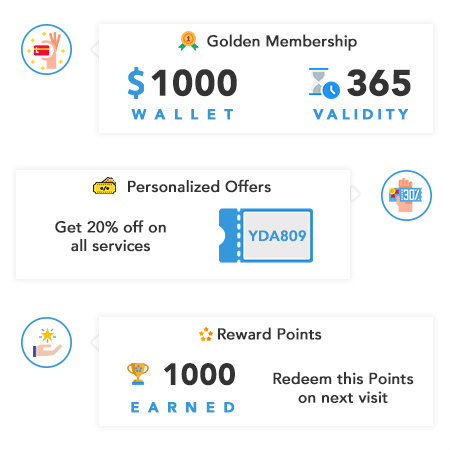 Run a membership program

For consistent repeat business and steady revenue flow, create membership programs to meet your client's needs. Keep them coming back running special and exclusive offers only for members.

Gift vouchers

Sell gift cards and vouchers in-store and online. Give your clients the opportunity to pick-up the perfect last-minute gift for their friends, and near and dear ones.

Prepaid and Credit management

The CRM module displays the collected and pending payments against each customer. Bring more transparency in your business by managing finances within a few clicks.

Reward points

Turn your clients into loyal customers by implementing a loyalty point program. Reward clients for referrals, pre-booked appointments and retail purchases. While your customers will feel rewarded, your business will grow.

Packages

Bundle multiple services and sell as a package to loyal customers. Entice customers to make a one-time payment.

Send personalised offers

Personalised offers and packages for clients based on their history.
Book keeping
Ensure that your team and your business are on the same page by managing all the aspects vital to your business from one location.
Product inventory management

Get notified when you're low on product and stock. Manage product usage, expiry and purchase orders with simplified inventory management tools.

Employee management

Get all the details about your employees and their performance with a single click. Analyse their productivity and give them incentives.

Client management

Get instant access to client demographics, past service history, stylist preferences and more. Keep track of past purchases and appointment history to personalise every client's experience.

Expense management

Keep track of client expenditure to ensure swift processing of payments. Get instant notifications about pending payments and minimise the loss in your business.
Send Notifications
Seamlessly send notifications and appointment reminders to employees and clients respectively. This will help your business improve staff productivity.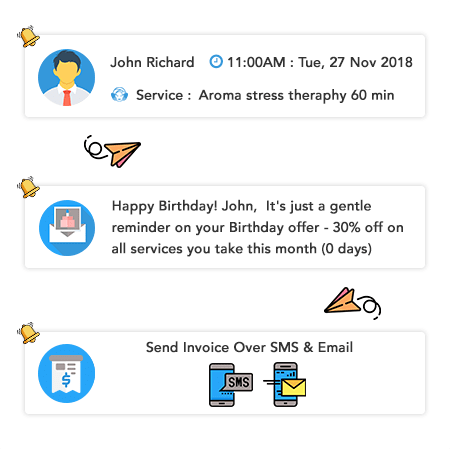 Send staff notification

Send out an email to your employees at the start of each day. Include the daily appointment schedule and changes, if any. MioSalon notifications and reminders will ensure they never miss an appointment.

Send appointment reminders

Reduce your salon no-show rate by sending automated text and email confirmations. You can also send for two-way SMS confirmations.

Birthday and anniversary greetings

Never miss a client's birthday or anniversary. Get notified and send them exclusive offers on their special day.

E-invoices

Opt for a paperless approach, and send invoices to clients via email and SMS. Send rebooking reminders to get clients to walk back through the doors of your business.
Manage multi-location
Manage one or more salon locations easily within a few clicks. Do all this and more with real-time access to data.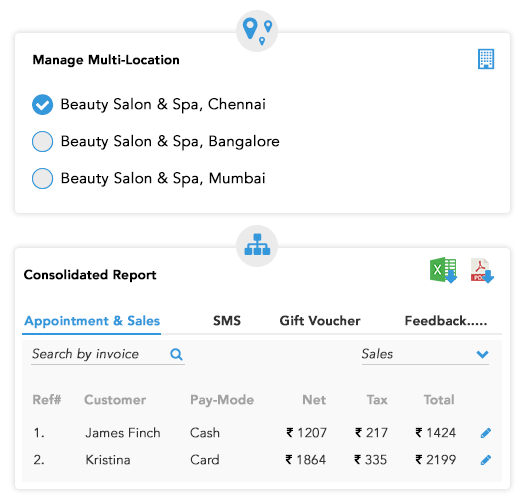 Manage locations on the go

Manage your salon or spa anytime, anywhere by using it on your tablet, PC, laptop or mobile device.

Analyse inventory across multiple locations

Easily track inventory across multiple locations and ensure the availability of products.

Consolidated reports

Get consolidated sales and revenue of each outlet in one central location.

Centralised membership

Manage client memberships centrally and share customer data across all centres seamlessly so that clients can avail the requested services with ease.

Stock transfers

Synchronise inter-branch products and stock transfers.
Sell Online
Boost the profitability of your business by selling gift vouchers in-store and online.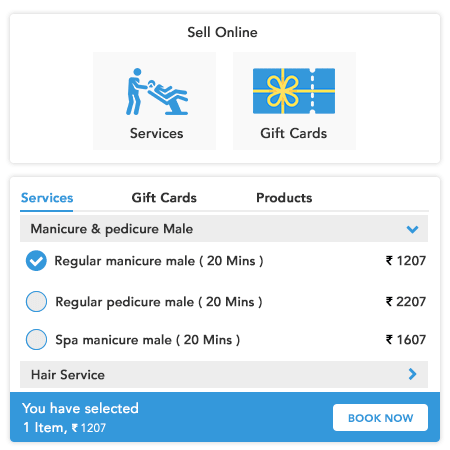 Business intelligence
Don't wait until the end of the year to see how your business is doing. MioSalon's dashboard shows how your business is tracking overall.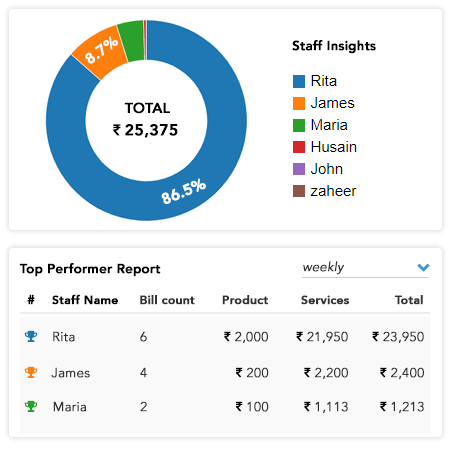 Get weekly/monthly reports

Download individual reports to get detailed insights on important metrics like the staff and employee performance.

Stronger and weaker metrics

The salon software actively demonstrates sale volumes to you so that you can analyse stronger and weaker metrics and define your marketing strategy accordingly.

Set goals and track your success

Set retail, service and performance goals for your employees. Check recent staff activity and decide where your staff is succeeding and where they can improve.

One single report

Say goodbye to multiple reports and spreadsheets. Say hello to a single report to review business goals and progress.
Security
You can be completely rest assured that your data will be protected against any kind of misuse and malicious activity.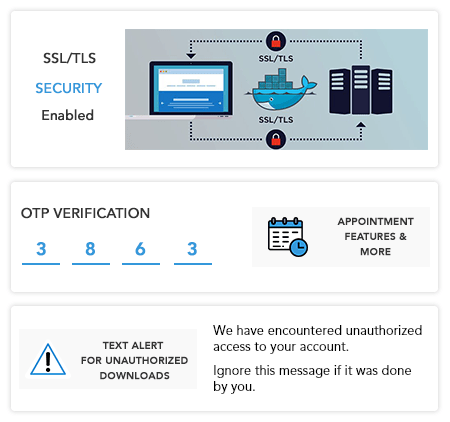 Individual logins

Your data will remain safe no matter what your location faces. Every employee will be given an individual login and secure password to access the software.

SSL/TLS security enabled

All communications with our servers are encrypted with SSL (Secure Sockets Layer)/TLS (Transport Layer Security).

OTP verification

OTP verification for redemption of gift vouchers, prepaid payments and appointment booking.

Unauthorised use alerts

Get notifications and text alerts for unauthorized use or download.
Integrations
Powerful integration with the ecosystem such as Facebook, QuickBooks, etc. to make life easier for you.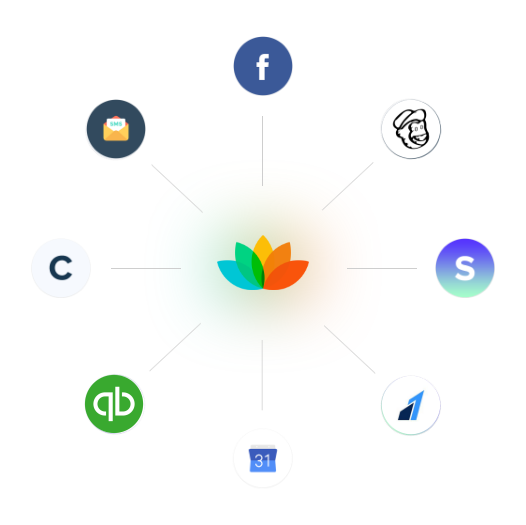 Facebook

Online booking made easy by adding the booking widget to your Facebook business page. It automatically reflects in your MioSalon calendar.

Mailchimp

Create and send targeted email campaigns by syncing your client database from MioSalon to MailChimp.

Stripe

Receive payments for purchases from customers 24X7 by syncing your MioSalon booking widget with Stripe payment gateway.

Razorpay

Let your customers take appointments and make purchases anytime, anywhere! All you have to do is integrate MioSalon with Razor payment gateway.

Google Calendar

MioSalon automatically syncs the appointment with customer's Google calendar, so the customer gets complete control of their schedule on their smart phone and be reminded automatically from Google.

QuickBooks

Manage your expenses and cash flow by importing all your sales transactions and taxes into QuickBooks online accounting software.

Card Connect

Integrated Credit Card processing makes your POS complete. EVM supported.

SMS Integrations

Send your clients unlimited SMS reminders and marketing messages by creating your own SMS gateway account and integrating it with MioSalon.